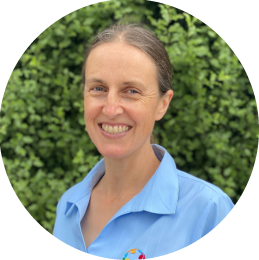 Bachelor of Applied Science (Physiotherapy) at the University of South Australia 1998
Member of the Australian Physiotherapy Association
Following the completion of my degree in South Australia I have worked in Sydney, Broken Hill, Scotland, Wales, England and Sale. I have gained a wide range of experience in many hospitals and community settings in the areas of orthopaedics, neurosurgery, rehabilitation, intensive care, musculoskeletal, aquatic therapy, aged care, neurology, women's health, paediatrics and one notable flight with the Royal Flying Doctor Service to remote New South Wales. After a break to raise my three lively children I have focused on private practice musculoskeletal clients for the past few years and have completed some further study in women's health.
I love living in a rural area and I love the diversity of people that come through the clinic door. I am passionate about quality healthcare for people no matter where they live and believe that an ongoing dedication to continuing education enables healthcare practitioners to take on the challenge of meeting the needs of unique individuals. I feel that listening, empathy and understanding for people wherever they are on life's journey are the core foundations for helping them with their health goals.
I enjoy a busy and active lifestyle on a rural property, and love exploring the bush and national parks with my family, cycling, making music with my children and playing the flute in the Maffra Band.
Special Offer

for new patients when you book your initial osteopathic consultation
Copyright 2015-2020 East Gippsland Osteopathic Clinic | All Rights Reserved
Hosted in Australia by
Crucial